Success across Generations: Leading Family Business Boards with Sustainable Impact is a current and important topic and was shared and discussed at a Boards Impact Forum Webinar with some leading board members and experts. This post holds some key takeaways from the discussion that are interesting to board members in Nordic companies and beyond.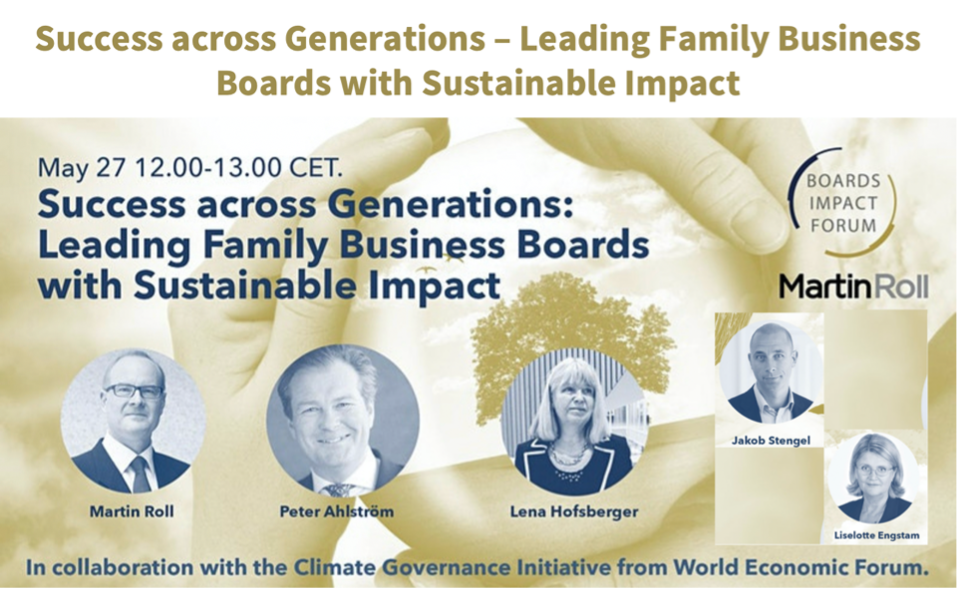 The webinar was introduced by Jakob Stengel, Board Member at Boards Impact Forum. INSEAD Distinguished Fellow and Senior Advisor to global family firms and family offices Martin Roll (DK) framed the discussion with some valuable insights on drivers and challenges about family businesses.
What is important to know about boards at family-owned businesses?
Between 55% and 80% of all companies in the Nordic countries have controlling owners, owning more than 20% of the business. These are often referred to as family businesses. If you are a Chair or NED, it is likely that you are on the board of a family business.
"In family business there are a lot of dilemmas to handle. It is about growth, but it is also about family harmony" – Martin Roll
Family businesses operate differently from other companies, creating a complex dynamic for board members. Family businesses enable a greater long-term perspective where sustainability can play a larger role, and where you as board director can create significant value.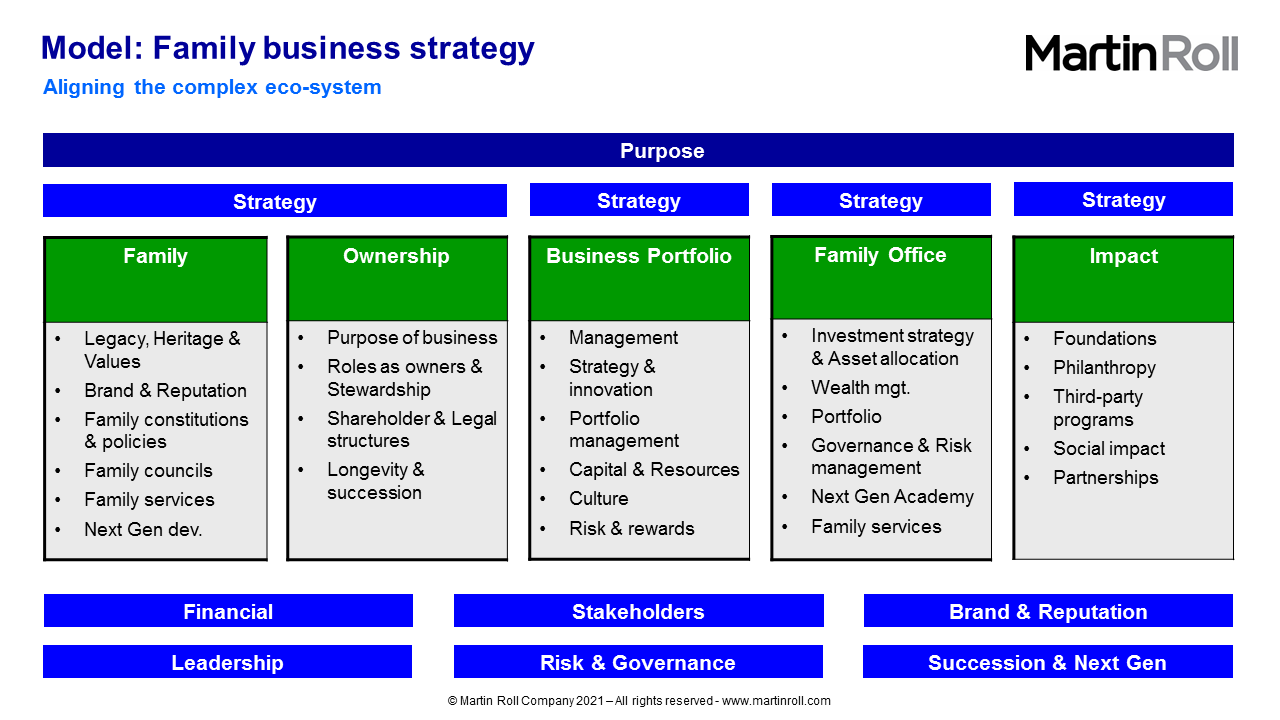 Figure 1: Family Business Strategy (Martin Roll)
Family businesses operate differently from other companies, creating a complex dynamic for board members. They enable a greater long-term perspective where sustainability can play a larger role, and where you as board director can create significant value. Martin Roll discussed the unique aspects of family business, and how the purpose and long-term strategy have to be connected to 5 pillars: family, ownership, business portfolio, family office and impact issues (Figure 1).
Following the framing, the webinar participants contributed with some insightful data. The Chairs and NEDs Lena Hofsberger (SE) and Peter Ahlström (FI) then offered additional valuable perspectives based on their experience working with boards of successful family-owned businesses in a moderated dialogue with Boards Impact Forum Chair Liselotte Engstam.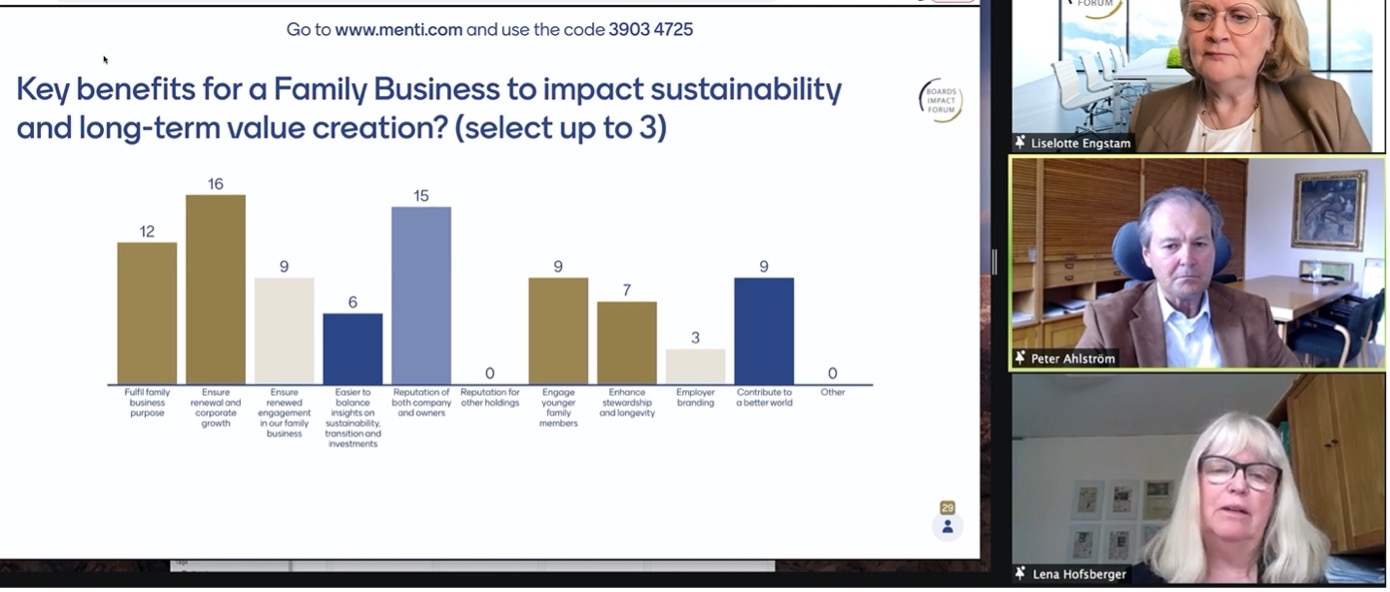 How board members can create even more value by focusing on sustainability
There are a number of ways board directors can create even more value in family-owned businesses through sustainability:
Be aware of the forces that can drive sustainability or hamper it
Many family businesses have a strong purpose, which is the reason why they were founded in the first place. And younger, next-generation owners are often driven by impact to a larger extent.
"The family purpose needs to be clear, you need to communicate it and sustainability helps fulfill it" – Peter Ahlström
All this can favour an ambitious approach to sustainability. But other forces may hamper it as for example conflict, wealth and governance factors. An owner directive highlighting sustainability can help, and there may be "holy cows" (non-negotiable family matters) to take account of as board director.
See sustainability as a driver for long-term value creation and reputation
Focus on the key areas where sustainability creates value. For family-owned businesses, these are ensuring renewal and long-term growth, fulfilling the family purpose and protecting the reputation of the business and the family.
Family-owned businesses have a long-term perspective, and sustainability is most successful when a business takes a long-term view of 10-15 years. A focus on sustainability can bring new ideas and business opportunities, because it forces you to see the whole value chain and all stakeholders, not just your company.
"Reputation is crucial. It is about the whole family not just me" – Peter Ahlström
The family name is closely connected to the corporate brand, so reputation is one of the key reasons for a family business to focus on sustainability.
Find the business logic for sustainability, in your industry and company, and become "climate fluent"
Finding the business logic for working hard on sustainability is very important – and this depends on what type of industry and company you are in.
"It is very profitable to work with sustainability when you have found the business logic. It really pays off. There is no reason you shouldn't" – Lena Hofsberger
It is crucial as board director to be knowledgeable about climate change and try and understand what it really means for the business.
Act as custodian of longevity and catalyst of change
Family owners need board directors with high integrity to challenge the status quo and take the side of renewal. It is your role to dare to change and lead. You need to be a friend of the family, but also their best critic.
"Sustainability is extremely successful when you take a long term perspective, 10-15 years" – Lena Hofsberger
Think about sustainability as renewal and long-term survival of the business. The board needs to communicate to the business that sustainability is important, and ensure clear follow up.
Participants finally added their perspectives via a survey on what boards needs to do raise the ambition on climate change.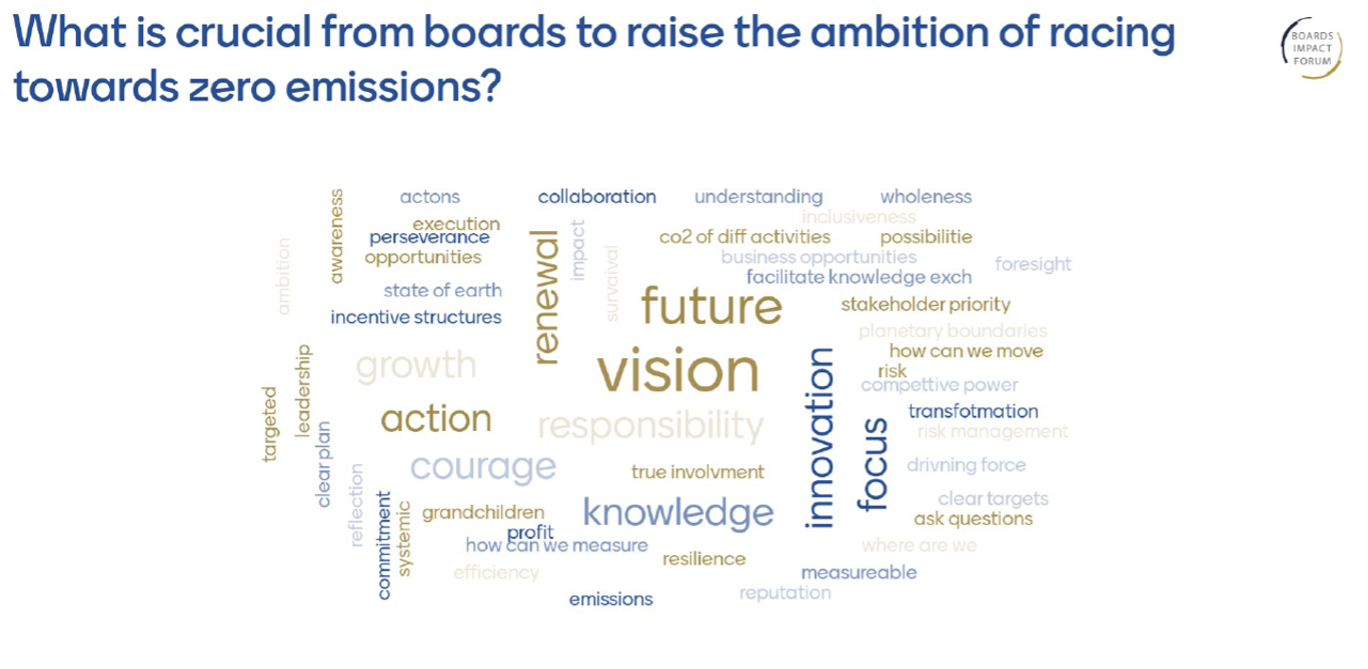 Martin Roll concluded with a summary of traits for effective family business board members (Figure 2)
"Purpose, renewal and reputation are big drivers of sustainability in family businesses" – Martin Roll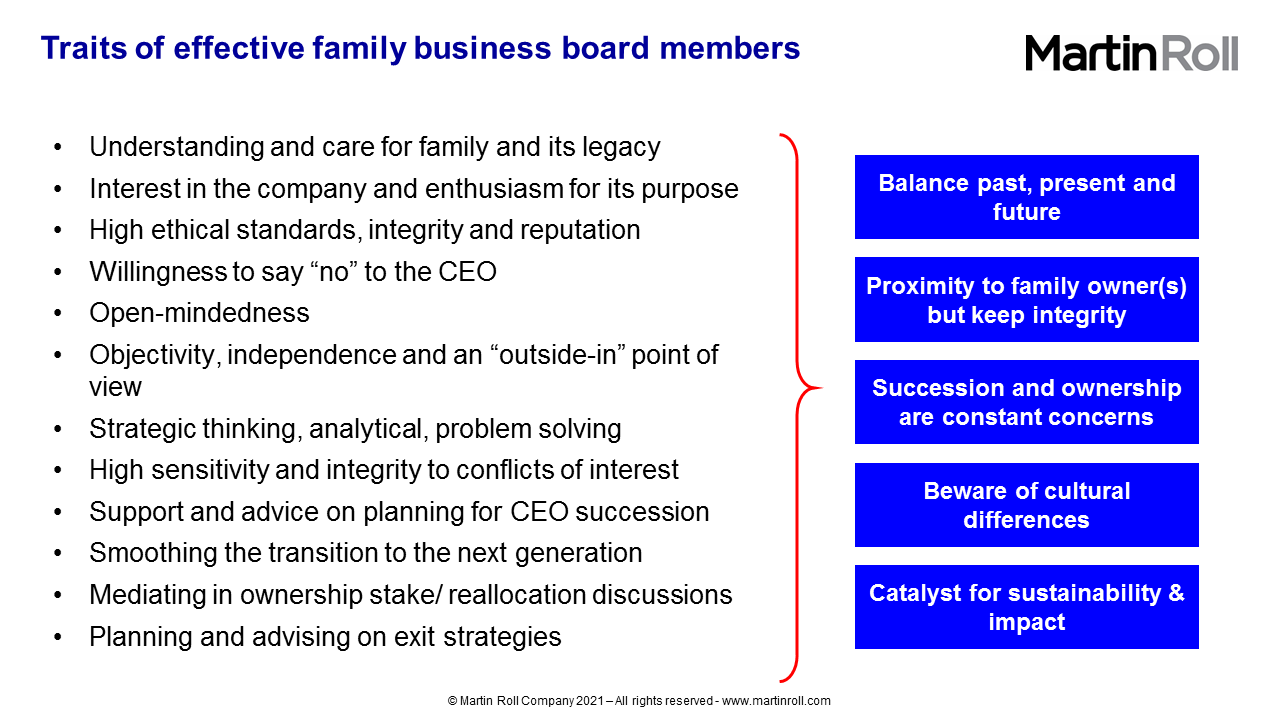 Figure 2: Traits of effective family business board members (Martin Roll)
Blogpost by Annachiara Torciano, Prime Weber Shandwick and Liselotte Engstam, Boards Impact Forum
Learn more and join Boards Impact Forum
For additional deep dives see some insights below, and you can also find a pointer to upcoming future webinars.
The full presentation from Martin Roll can be found here
The recording from the webinar can be found here
Upcoming webinars at Boards Impact Forum Our Events – Boards Impact Forum
Joining as member or to receive the newsletter Join the Forum – Boards Impact Forum