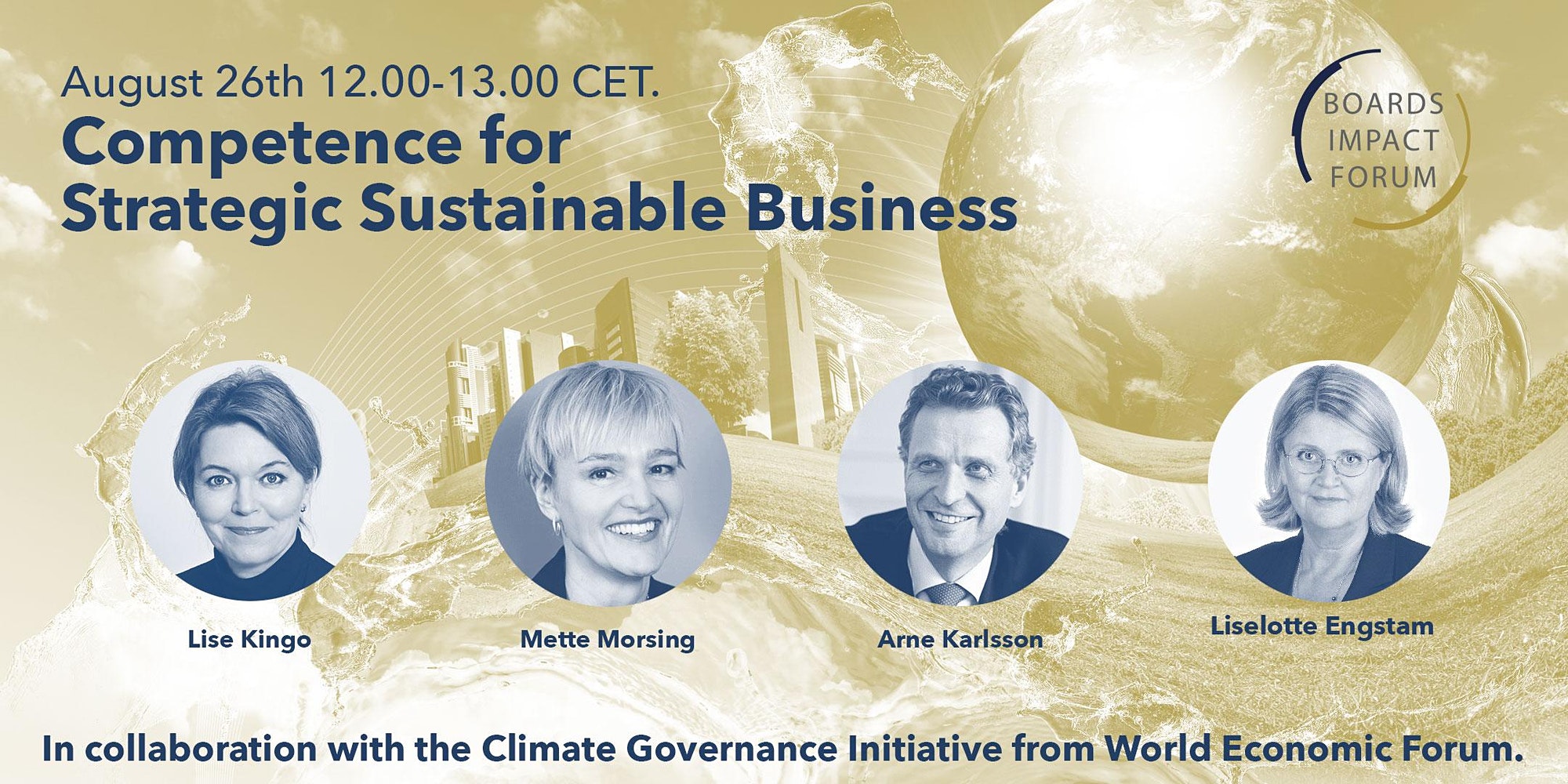 Competence for Strategic Sustainable Business
The most senior leaders of the organization — the board, the CEO and their executive team — are ultimately responsible for the success or failure of the organization. They alone are uniquely positioned to drive the transformation needed by integrating sustainability into business strategy and operations in a manner that supports the long-term viability of the business.
Sustainability pioneers have a strong personal motivation and purpose. They combine a sustainable mindset with a differentiated set of capabilities that have enabled them to drive transformation within and beyond their own four walls. In a research by UN Global Compact and Russel Reynolds they identified capabilities as Multi-level System Thinking, Stakeholder Inclusion, Disruptive Innovation, and Long-Term Activation.
Based on both research insights and personal experiences, we will listen to Lise Kingo, NED Sanofi, former CEO at UN Global Compact and Executive Vice President, Chief of Staff, Novo Nordisk A/S sharing insights on the status of competence at boards and leadership teams, and what is needed to move forward.
A moderated discussion will follow with Lise Kingo, Chair and NED Arne Karlsson and Professor Mette Morsing.
Aug 26 at 12-13 PM CET, Boards Impact Forum invites you to a webinar on the topic of "Competence for Strategic Sustainable Business"

A presentation based on a UN commissioned global survey will be held by
• Lise Kingo, NED Sanofi, Former CEO at UN Global Compact
A moderated discussion will be held with presenter Lise Kingo together with
• Arne Karlsson, Chair Swedish Corporate Governance Board, Ecolean, Einar Mattson et al, NED Maersk et al
• Mette Morsing, Professor, Head of PRME at UN Global Compact, Board Member LEGO Foundation
The discussion will be moderated by Liselotte Engstam, IDP-C, Boards Impact Forum Chair.
If you are interested in becoming a member or support of Boards Impact Forum, please register here: https://boardsimpactforum.com/joinus/