Boards as drivers of Corporate Renewal and Sustainability
October 29, 2021 @ 8:30 am

-

9:30 am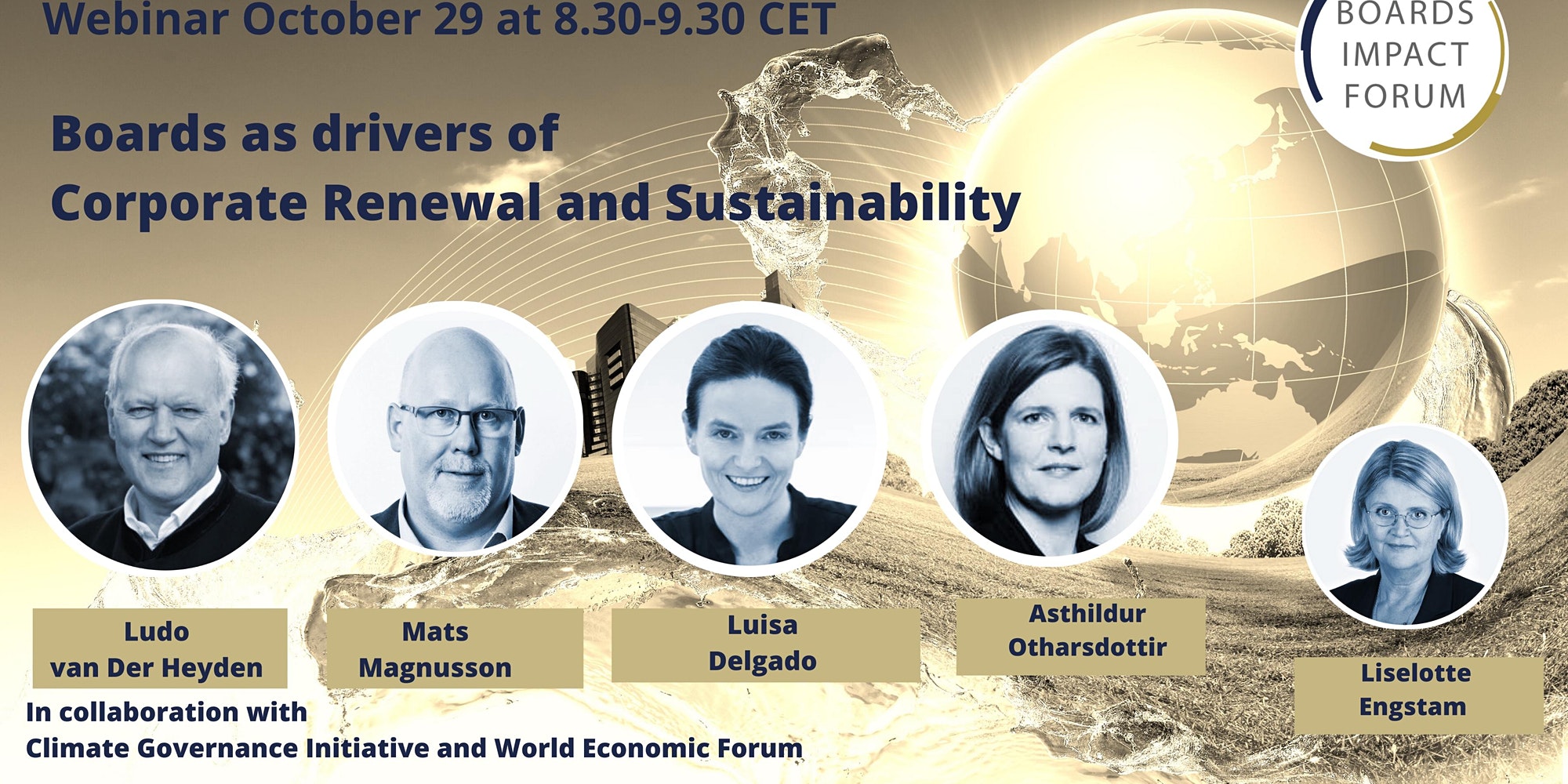 Boards Impact Forum Webinar on Boards as drivers of Corporate Renewal and Sustainability
What are the three key action agendas for boards to ensure they guide sustainable corporate renewal?
Growth and innovation are key topics for many companies and emphasized when sustainability and climate change increasingly move to the top of many company agendas. Investors require reporting on the ESG (Environment, Social and Governance) agenda with concrete actions to follow.
• What then is the board's role in guiding companies on this path, to ensure that the strategic direction of the company includes sustainability?
• What are the better practices that are emerging?
Listen to both research results and highly experienced board members.
On October 29 at 8.30-9.30 CET, Boards Impact Forum invites your to a webinar on Boards contribution to Corporate Renewal and Sustainability.
Professor KTH & Luiss, Board Member Mats Magnusson and Professor Emeritus and founding father of INSEAD Directors Program and NED Ludo van der Heyden have over the last few years, together with Boards Impact Forum's Chair Liselotte Engstam, and Operations Executive Fernanda Torre, researched the topic of the Governance of Corporate Renewal, Innovation and Sustainability.
The professors will share the findings and insights emanating from their research and in the following panel we will discuss ways boards can ensure that the purpose and strategy include innovation and sustainability and how boards can act as catalysts. The panel will also include the vastly experienced Board Directors Luisa Delgado, NED at e.g. IKEA/ IngKa, Fortum, Telia, AO World, Vice Chair Barclays Bank Suisse, Chair of Schleich, with a background as both CEO and HR director at companies as Safilo, SAP and Proctor and Gamble, and Asthildur Otharsdottir, Partner Frumtak Ventures, Chair Kaptio, Controlant, Board Member University of Iceland, with long board experience from Marel and Icelandicair Group. The panel will be moderated by Liselottte Engstam, Chair Boards Impact Forum.
Insights from the related survey on Boards, Innovation, Sustainability & Commitment will be presented. For those of you that not yet have had the opportunity to participate in the survey, the survey is confidential and takes less than 10 minutes to fill in, you find the survey here. You will also get a chance to opt in to receive a summary report from the survey results.
After you complete your registration here, you will obtain instructions on how to join the meeting.
If you are interested in becoming a member or support of Boards Impact Forum, please register here.
Speaker Bios:
Ludo Van der Heyden,
Professor Emeritu INSEAD, Independent director
Ludo Van der Heyden is the founding Director of INSEAD's Corporate Governance Initiative (now Center) and is co-created the International Directors Programme, Modern Governance in Banking, the Value Creation for Owners & Diretors and the Advanced Strategies for Directors. He lectures on governance, leadership, team dynamics, fairness in business and society, and innovation.
Ludo was the first holder of the Wendel Chair in the Large Family Firm and of the Solvay Chair in Technological Innovation. He directed the Advanced Management Program, the INSEAD Zentrum Leipzig (1994-98), also was INSEAD Dean (1990-95), and associate Dean for R&D and the first Director of the INSEAD PhD Program (1989-90). He earned several Outstanding MBA Core Teacher Awards, as well as an Outstanding Service Award in Executive Education.
Before joining INSEAD, Ludo was on the faculty of Yale University (1980-1988) and of Harvard University (1978-80). He holds an Engineering Degree in Applied Mathematics from the Université Catholique de Louvain and a Ph.D. Degree from Yale University.
He is Chairman of the Board of Seisquare, a software company for estimating natural resource reserves, and a member of the Advisory Board of Bencis Capital Partners. He was appointed Independent Director in the Supervisory Board of Naftogaz of Ukraine in June 2019.
Mats Magnusson, Professor KTH Royal Institute of Technology, Sweden & LUISS, Italy & Board Member Professor at KTH Royal Institute of Technology in Sweden and Permanent Visiting Professor at LUISS School of Business and Management in Italy. He holds a PhD in Innovation Engineering and Management and an MSc in Industrial Engineering and Management from Chalmers University of Technology, as well as a BA in Japanese from the University of Gothenburg. He has previously been Visiting Professor at LUISS University, the University of Bologna, and Aalborg University.
Chairman of the Continuous Innovation Network (CINet). He is a senior advisor of the Creativity and Innovation Management journal, and a co-founder of the Association of Innovation Management Professionals in Sweden.
His research and teaching activities concern continuous innovation, management of ideas and knowledge, innovation networks, strategic management and boards contribution to corporate renewal and sustainability, and he has published articles on these topics in e.g. Research Policy, Journal of Product Innovation Management, and Long Range Planning. Prof Magnusson is a teacher at several international leadership programs in Europe, Japan and China.
Luisa Delgado,Non-Executive Board Director, Investor & Entrepreneur, Advisor
Luisa Delgado is an international leader with extensive board experience and a background from several global companies. Luisa serves as Non-Executive director at e.g IKEA/INGKA, Fortum, Telia, AO World, as Chair of Schleich and Vice-Chair of Barclays Banks Suisse.
She has previously held positions such as CEO of Safilo Group, the Italian eyewear company, executive board member in charge of HR at German technology group SAP, and VP at Procter & Gamble, for the Nordic region and previously for Human Resources Western Europe.
Luisa holds a Bachelor of Laws from the University of Geneva, a Master of Laws from King's College/University of London, a Postgraduate Diploma of European Studies from Universidade Lusiada in Lisbon, and more recently the FT Non-Executive Director Diploma.
Asthildur Otharsdottir VC Partner, Non-Executive Board Director
Athildur Otharsdottir is a Partner at Frumtak Ventures, She is the Chairwoman at Kaptio and at Controlant, and on the board of governors of the University of Iceland.
Asthildur comes with extensive board experience as Chairwoman at Marel and as board director at Icelandair Group and several other organizations.
Asthildur served as the Global Director of Corporate Development at Össur hf., where she managed several international acquisitions, corporate funding, investor relations, and the dual listing of the company's shares on Nasdaq Copenhagen. Prior to that, she served as a Senior Manager in Corporate Banking at Kaupthing Bank as well as a management consultant at Accenture in Copenhagen.
Asthildur has an MBA from Rotterdam School of Management, the Netherlands and a Cand. Oecon., University of Iceland