Towards a Hybrid Corporate Governance Paradigm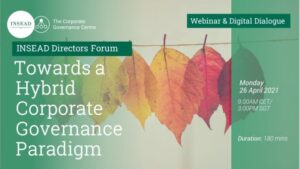 INSEAD Directors Forum
April 26 9-12 CET
Organised by the INSEAD Corporate Governance Centre, the thought leadership forum on "Towards a Hybrid Corporate Governance Paradigm" would examine the governance models across public listed and private companies such as family enterprises and start-ups to identify the unique structures and the case for hybrid governance model.
Board of directors must understand the strengths and challenges of the different governance practices that are entrenched in the various structural and ownership models in order to provide strategic oversight to define asset acquisitions and investment strategies that would drive long-term value creation aligned to business goals.
What can corporate boards learn from starts-ups and family businesses and how can the latter professionalise their governance for higher growth in the medium to long-term horizon? How would corporate governance models evolve with the paradigm shifts?