Board competence for strategic sustainable business
Sustainability has become a top priority for many companies, but management and boards still struggle to make it part of the core business strategy and leaders' needed competence. Boards Impact Forum hosted a webinar on this key question with four leaders with extensive board and sustainability experience.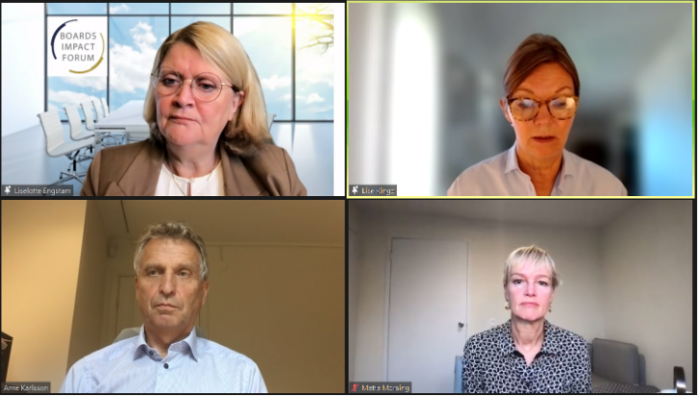 Speakers Lise Kingo (NED Sanofi, Covestro and Aker Horizons, Former CEO at UN Global Compact), Arne Karlsson (Chair Ecolean, Einar Mattson et al, NED Maersk et al and former Chair Swedish Corporate Governance Board) and Mette Morsing (Professor, Head of PRME at UN Global Compact, Board Member LEGO Foundation) shared their experiences and insights with moderator Liselotte Engstam, Chair Boards Impact Forum.
Lise shared insights from her board experience and from a survey done by UN Compact together with Russel Reynolds "Leadership for the Decade of Action"(1) on leadership sustainability competencies and related governance impact.
Sustainability starts at business strategy level
Making sustainability a core of the business strategy starts at the board level. This should be a priority for board members. Failing to consider environmental, social and governance (ESG) factors may constitute a breach in responsibility for directors and board members.
The question is not if sustainability belongs in the board room – the question is how we ensure that we have the right competencies for the sustainability transformation that is necessary at the board level. – Lise Kingo
Sustainability is a moving target, as government policy and societal expectations on businesses evolve.
61% of participants in the webinar thought that business leaders have a sustainable mindset.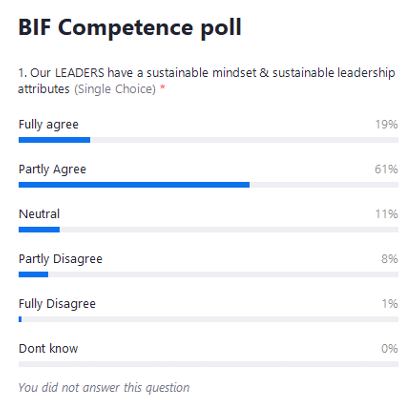 However, research from the United Nations Global Compact and recruitment firm Russel Reynolds found that only 16% of executive and non-executive roles require sustainability experience or mindset.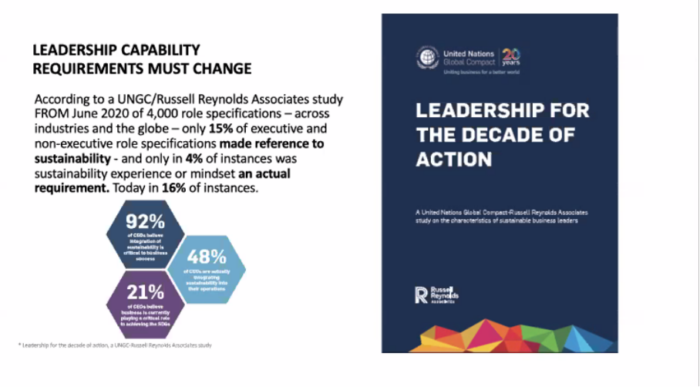 Bring sustainability to the core of the business
Sustainability is still often seen as a risk by the board. But sustainability is also a strategic opportunity, as conditions and customer preferences are changing.
Sustainability needs to be at the core of the business and integrated in all key parts of the operations. Business has an opportunity to innovate, win customers and talent, and grow through sustainability.
Here there is a gap. Only 14% of the webinar participants agree that their board drives a strategy and vision that integrates sustainability, while 51% partially agree.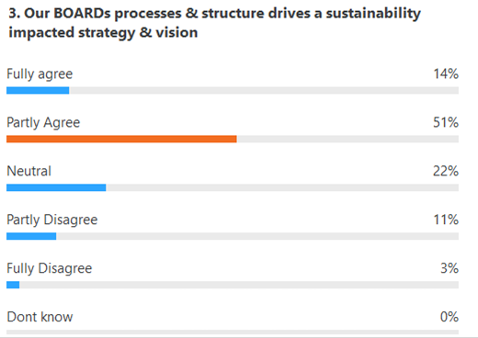 We need to redefine success and move away from a language of war – winning, losing, defending, setback – towards a language of partnerships and mutual success. – Mette Morsing
Individuals, Boards and Leaders are drivers of change
Complex governance requirements and one-size-fits-all can hinder creativity at companies that want to become sustainability leaders.
Boards need to ensure that it is not a single member in the board carrying the weight of sustainability on her or his shoulders. All board members need a good understanding of sustainability and have the ability to translate it into business strategy.
I find it very difficult to discuss the concept 'board specialist' – because as a board member you are legally responsible for all that happens. In addition, I am not a fan of sustainability committees because that makes it something alien from the ordinary course of business. – Arne Karlsson
All business strategy adapts to the outside world and translates trends into business challenges and opportunities.
In the end, this is about customers and people. Young people are driving a change in perceptions in society around sustainability and climate. Boards need to translate this into business strategy.
This means looking at the company's purpose and values, business strategy, targets, remuneration objectives and training, and making sure sustainability is reflected there.
I don't know any large company with survival instinct that does not have sustainability high, or highest, on the agenda. If you don't, you have a big problem ahead of you. – Arne Karlsson
Blogpost written with support of Annachiara Torciano, Prime Weber Shandwick
Next Webinar
Boards Impact Forums next open Webinar is scheduled for September 20 on the topic of Owners Perspectives and Collaboration with Boards with top speakers including Corporate Governance Professor Morten Huse, Viveka Hirdman-Ryrberg, Communications & Sustainability Director at Investor, Board Director at SEB investment Management, Christoph Vitzthum, Chair Konecranes, Varma, NED at Nordstjernan & Oras Invest and CEO at Fazer, Jens Schlyter, Deputy Director for Sustainable business for State-Owned Enterprises and Board Director at Svenska Spel. Read more and sign up here
Blogpost written with the support of Prime Weber Shandwik