Climate change is a global emergency and business has a crucial role to play in the transition to net-zero. Boards need to ensure they take the lead and are able to guide their companies.
Boards Impact Forum is proud to announce four key learning and action initiatives to help board members and their stakeholders to accelerate the action and impact.
Boards Impact Forum, the Nordic Chapter of the Climate Governance Initiative in collaboration with World Economic Forum, engages board directors to accelerate climate actions and innovation for a sustainable business and a sustainable world.
We are now launching a Digital Insight and inspiration Program, as well as a separate but linked Virtual Peer Exchange Program, to increase the insights of the board's role, company impact assessment, strategy adjustment, transition planning and reporting. The program is based on the eight Climate Governance Principles developed by World Economic Forum. 
A Progress Survey is provided to help reflect on the board and the company progress, with an opportunity to compare some of the key areas with others.
A Reflection Guide with key questions is provided to help reflect on the individual areas that will improve board effectiveness to help guide their companies.
Outline of the programs
The Digital Climate Learning Journey for board members, starts on February 1 and runs for 50 days until March 22. One day at a time will be revealed and you can always go back and look at days you might have missed. Every day you will get insights taking 5 minutes to 1 hour to consume, and you will be asked to reflect on questions relating to the insight.
The Virtual Peer Exchange Program includes four meetings, is exclusive to Boards Impact Forum Members, it's free of charge but will be application based. Program Exchange invites will go out directly to members. If you are a board member and would you like to join Boards Impact Forum, learn below how to join.  The Virtual Peer Exchanges will be held under Chatham House rules including discussions in smaller groups. The four planned exchanges will be held as 90 minutes sessions, during Feb 18 and Mar 3, 14, 23 at 10.15-11.45 CET. We recommend that participants join all four exchanges but may join also individual exchanges. The four exchanges focus
Board accountability, competence and effectiveness
Board assessment of risks & opportunities with related strategy integration and transition plans
Board actions on incentivization, reporting and disclosure
Board ensurance of stakeholder exchanges
Boards Impact Forum is also running, by invitation only, two additional virtual peer exchange programs, with a senior chair and board member group and an exclusive chairman group.
After these first programs, we will evaluate and adjust the programs to continuously make our support for board members more impactful.
More information and access to the initiatives
Learn more and access
>> 50-day Digital Learning Journey for Board Members
>> Climate Governance Virtual Exchanges
>> Survey on Boards Progress in Sustainability and Climate Governance
>> Reflection Guidance Document with Questions
>> World Economic Forums Climate Governance Principles
>>> Follow Boards Impact Forum at LinkedIn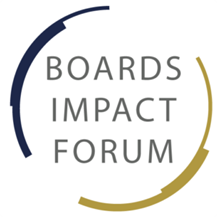 Boards Impact Forum, the Nordic Chapter of Climate Governance Initiative in collaboration with World Economic Forum, aims to enable better corporate climate and sustainability governance by inspiring, educating, connecting, and engaging board members in Nordic countries and internationally. We share insights together with our partners via webinars, peer exchanges, events, research, and information sharing, and collaborates with the other country and regional chapters of the Climate Governance Initiative.
We welcome all responsible board members to become members at Boards Impact Forum, and we invite Partners to support our important initiative, learn more here .
Follow our upcoming events here, and revisit some earlier events here
The importance of managing the sustainability agenda and the climate issue by boards is increasing. Boards Impact Forum, the Nordic chapter of the Word Economic Forum's Climate Governance Initiative (CGI), has been established to provide more insights. The Boards Impact Forum purpose is to engage board members in the Nordic region and internationally, to accelerate climate action and innovation for more sustainable business and a sustainable world.
More information about Boards Impact Forum
Read about Boards Impact Forums Partners