By Aija, Bärlund, Board Member Boards Impact Forum
Active and engaged owners ensure that their companies work with both the risks and the opportunities related to climate change, together with other sustainability issues. A key success factor is stakeholder dialogue and engagement.
Webinar on Strategic integration of sustainability by active owners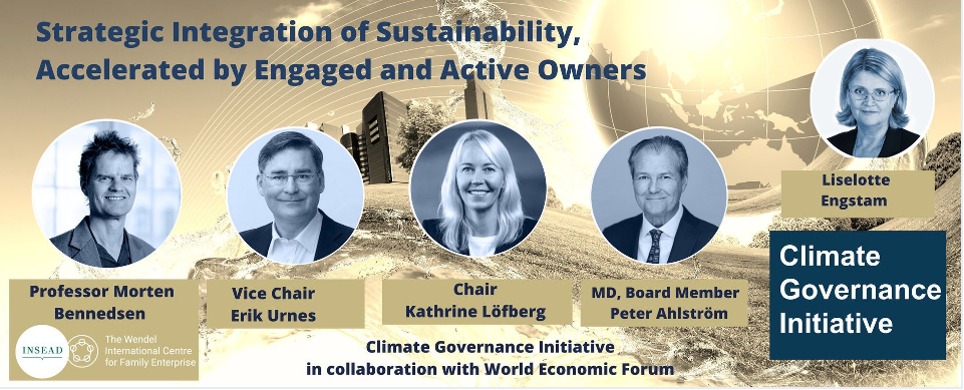 Boards Impact Forum organized a webinar "Strategic Integration of Sustainability, Accelerated by Engaged and Active Owners" in collaboration with INSEAD on October 12th 2022. The webinar was a part The Global Summit 2022: Ambition to Action organized by The World Economic Forum's Climate Governance Initiative.
The speakers of this event were Professor Morten Bennedsen, (INSEAD and University of Copenhagen), PhD from Harvard, who is one of the world's leading experts on family business, boards and sustainability.
Owner-Chair-Board Member views about sustainability and value creation were shared by:
Peter Ahlström, CEO of A. Ahlström Real Estate Ltd (part of Ahlström Capital Ltd), board member at Westas, Broman Group, MVR Yhtymä and Mairea Foundation
Kathrine Löfberg, Chair Lofbergs Group, Chair Coffee & Climate and
Erik Urnes, Vice Chair Lindengruppen, Chair Bintel, SenCom, MindPark and Non-Executive Director Hoganas.
The webinar was moderated by Liselotte Engstam, Chair at Boards Impact Forum & Board Member at Climate Governance Initiative as well as on listed and private companies.
Active Owners as Force for Good – by Professor Morent Bennedsen
According to Professor Morten Bennedsen companies are currently contemplating how sustainability is included in their value proposition and marketing versus if their current carbon footprint is documented.
Many companies are uncertain about the purpose of their sustainability reporting: should it be for the company itself, for the stakeholders or for society at large? Nevertheless, the tendency of integrating sustainability and financial reporting is getting stronger.
"You need to make the analysis what sustainability means to your company. Make a plan and set targets, start getting stable data, measure and develop further." – Morten Bennedsen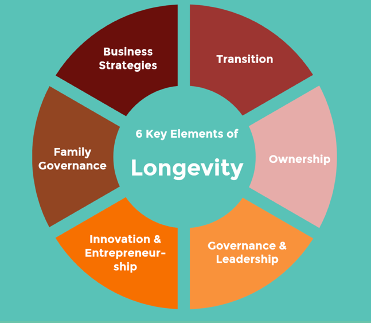 A better world for future generations – by Peter Ahlström
Peter Ahlström, shared the mission of their family business which is "A better world for future generations."
The Ahströms have Climate change, Resource efficiency and Biodiversity as environmental sustainability focus areas. On the social side they have Employee Well-being, Health & Safety and Diversity & Inclusion. On the governance side the focus areas are Business ethics and Nordic governance model.
There are already 7 generations in Ahlström family with altogether 400 family members, where only 5 family members work in the operative family business. The family wants to get the next generation on board, why the shared values are very important.
Peter shared the Ahlströmer Sustainability Road Map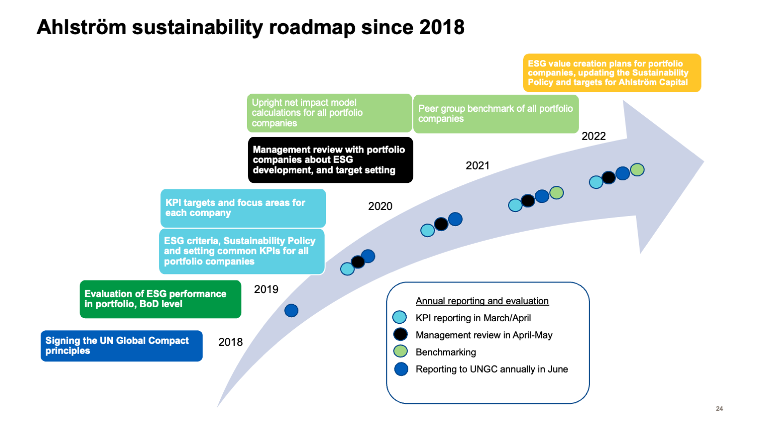 "As owner you need to figure out your own ambition. Clarity helps. Do not make it too complicated. Walk the talk. Purpose is key, so spend time on that and ensure that you are proud of that purpose." – Peter Ahlström
Good moments for Future Generations – by Kathrine Löfberg
Katherine Löfberg shared with us that sustainability is in the DNA of the family coffee business established in 1906.
Sustainability is integrated in everything they do. Katherine considers it important that the board has other experience, outside the family owners, with solid understanding on sustainability.
Kathrine shared Löfbergs' Sustainable Business Framework
"Many times you have two hats at the same time. You need to keep them apart. Owners ought to listen to the external board members. You should select people with strong integrity as board members. External board members need to speak out and they ought to be people who are not afraid to speak against the owners' opinion.
Look at your own business and value chain, where are your difficult points and development themes. Prioritize them, but do not leave out the rest. Take care of you employees. Set clear targets. Your competitors are following you. Stretch the targets to beat the competition. Be transparent on your plans and targets, what has been achieved and what has not been achieved." – Kathrine Löfberg
Creating shared and sustained societal impact – by Erik Urnes
Erik Urnes pointed out that many companies do have challenges in integrating sustainability into strategy.
Companies are still at the very early stage with sustainability. The systems are slow. Not everybody is engaged yet. There are many owners who prioritize other things, which is understandable. There have also been some scandals around due to careless owners.
But as shared in the webinar, strong families such as Ahlströms, Löfbergs and Lindéngruppen are different. They have sustainability in their DNA.
Lindéngruppen monitor, evaluate and improve their impact continuously.
"In private companies the ownership agenda is important. Strategic questions with all the decisions: Is this in line with our purpose and our strategy? You need to push from the board to make sustainability integrated into the business." – Erik Urnes
Erik Urnes shared how Lindengruppen has redefined their approach to value creation and started to use impact accounting to clarify the firms impact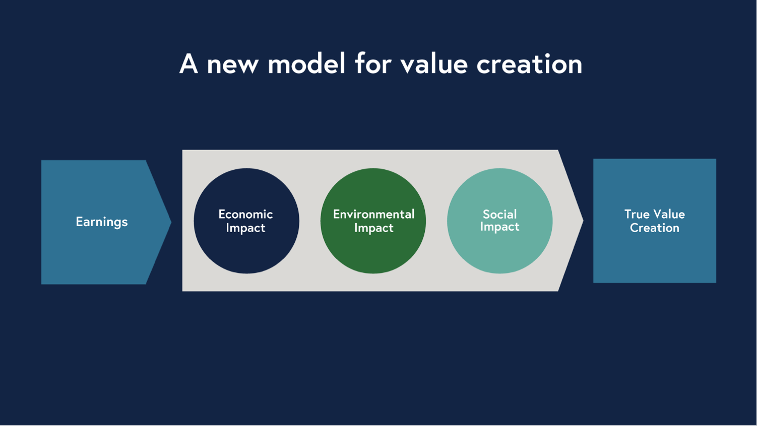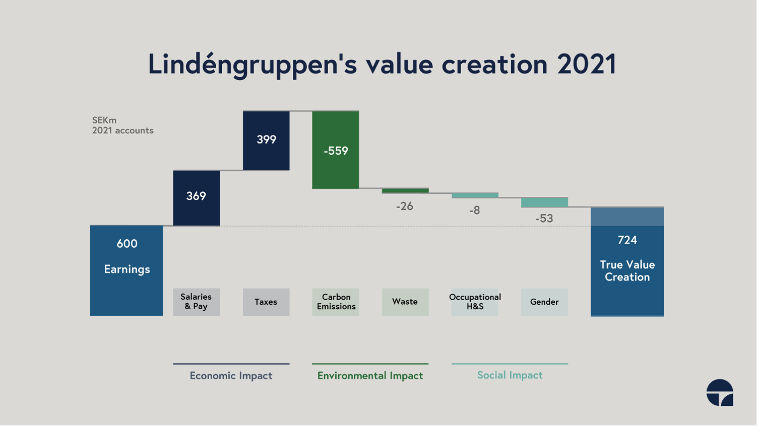 "In private family companies you do have the personal commitment. The next generation is looking after you and requires action. The whole board and management need to be committed to sustainability." – Erik Urnes
Key steps to take:
1) Make the materiality analysis,
2) decide what you want to measure,
3) start measuring,
4) set goals and
5) follow-up.
Accept the fact that not everything can be known and measured today. Start to work with what you have and strive to gradual improvement.
Presenters Tip of the day to owners and board members
The presenters shared some final Tips of the Day to other owners and board members
"Be accountable for how you earn your money." – Morten Bennedsen
"Bring in new insights and outside perspective to the board." – Kathrine Löfberg
"There should be more external than family members in the board." – Erik Urnes
"Nomination process and diversity are very important."- Peter Ahlström
Learning more and deep dive
The full webinar recording can be found at Boards Impact Forums Youtube Channel
Participating Active Owners/ Chairs/ Board Members representing the businesses;
INSEAD Family Business Center
INSEAD Wendel International Center for Family Enterprise
Article About Nordic Boards
What the World can Learn from Nordic Boards
Previous related Webinar Recordings
Owner Perspectives, Collaboration with Boards on Sustainability and Climate Change
How boards can create value through sustainability in family-owned businesses
Coming events and join Boards Impact Forum
Upcoming webinars at Boards Impact Forum Our Events – Boards Impact Forum
INSEAD Directors Forum Governance Imperative in a New World Order
Join as a member or to receive the newsletter Join the Forum – Boards Impact Forum