Blog by Aija Bärlund, Board Member Boards Impact Forum
Webinar on Purpose, Motivation and Remuneration as Sustainable Business Drivers
Most companies meet increasing pressure from their stakeholders to provide information about their sustainability work and related targets. Boards are currently exploring best ways to integrate sustainability in strategy and reporting, and to motivate CEOs and leaders to run the sustainability agenda.
Boards Impact Forum held a Webinar on Purpose, Motivation and Remuneration as Sustainable Business Drivers together with INSEAD Corporate Governance Centre on November 7th 2022. The timing of the event was excellent as the COP27 currently is taking place in Sharm el-Sheik.
Experienced Chairs and NEDs, Denise Koopmans, Tomas Franzén and Sonia Tatar discussed with Steen Buchreitz Jensen.
Research Insights
Sonia Tatar shared the results from a recent global survey of board directors on Nomination & Remuneration Committee practices, conducted by INSEAD Corporate Governance Centre together with Eric Salmon & Partners Group. The survey revealed that sustainability has become an important agenda item in the boardroom and that nomination & remuneration alignment with the company strategy including ESG have become an imperative. Companies still have clear challenges in translating strategy, sustainability goals and stakeholders' interest to meaningful and measurable KPIs. Thus nomination & remuneration practices, and committees, are key pillars for sustainable businesses when aligning company strategy with ESG targets.
According to Sonia Tatar, company culture plays vital role in making the sustainability agenda come alive. The tone has to come from the top as leaders reinforce values and guiding principles that mobilise, motivate and engage key stakeholders such as employees. CEO acts as the key champion in driving the sustainability culture.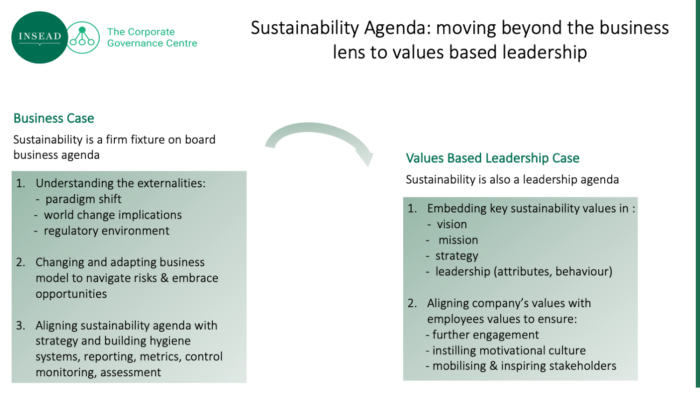 Remuneration Chairs Insights
Tomas Franzén shared his experience from Axel Johnson, family-owned company of 5th generation, and Bonnier, of 6-7th generation. At Axel Johnson the owners' total commitment to be a good corporate citizen, makes the ESG work self-evident. Everything comes naturally as the support comes from the top.
At Bonnier, the company purpose 'freedom of speech – defending independent journalism' provides the cornerstone for corporate values and for sustainability. By telling stories journalists engage stakeholder and enhance vital democracy. Implementation is easy as the engagement is clear from owners and board alike.
Tietoevry have a 3-year Long Term Incentive program which include targets on CO2 emissions and gender diversity, with the aim to over time cover more of the sustainability agenda as frameworks and metrics develop. Another example was Dustin where the 1-year Short Term Incentive program includes targets on takeback of the customers existing hardware products when selling them new products, with the aim to have one product recycled for every product sold one product.
Tomas Franzén's practical advice on ESG and remuneration of executives:
In general, the financial metrics are pretty clear in companies. ESG and remuneration of executives is a new thing, so start somewhere and learn as you go.
Don't try to solve everything, start with some measures that exists and build from there.
CO2 emissions, equality and specific initiatives can normally be measured well enough.
Denise Koopmans shared her experience as NED and Chair of the remuneration committee of the Royal BAM Group, a European construction company which builds and designs sustainable buildings, houses and infrastructure. The Royal BAM Group is another example of a company where the sustainability strategy is embedded in the overall strategy, anchored around the company purpose: "Building a sustainable tomorrow". The construction sector is one of the most polluting sectors, and the sector is very well aware of its responsibility to reduce CO2emissions. This means that ESG is high on the agenda of Royal BAM Groups' supervisory board and executive board. The company has set science based targets to reduce its CO2 emissions by 50% in 2030 compared to 2015 and is committed to maintain its place on the CDP Climate Change A list. A dedicated Health/Safety/Sustainability committee has been added to the existing board committees, to closely monitor progress in these domains.
Royal BAM Group's financial and sustainability goals are integrated in the overall group strategy. In the strategy there is a strong focus on People and Planet which includes sustainable building methods, innovative industrialised ways of working, electric transports and offering a rewarding, diverse and safe working environment to employees, but also delivering increased well-being and social value to the communities it serves. Reference is made to it being on an "innovation and sustainability journey", as its sustainability agenda is highly driven by innovation and the organisation is learning and improving every day.
Denise Koopmans´ advice is to integrate ESG targets into objectives for management remuneration. Since most companies focus on long term value creation, the long-term incentive programs (LTI) should include next to financial objectives also non-financial objectives such as ESG. Linking short term incentives (STI) to these strategic objectives can be useful as a guidance towards achieving the longer term goals. Be aware to select the most relevant KPI's, to steer management focus. At Royal BAM Group, the LTI includes 35% non-financial KPI's like the CDP ranking and carbon intensity reduction. The STI includes 30% non-financial targets like employee engagement, safety, carbon intensity and waste reduction. In the annual Remuneration Report, the remuneration committee reports about the remuneration paid. The report needs an advisory vote at the AGM.
Denise Koopmans concludes that ESG is part of a bigger story of how you want to run your business. It needs to be embedded in the purpose, mission and vision of the company and the tone at the top is crucial.
Panel discussion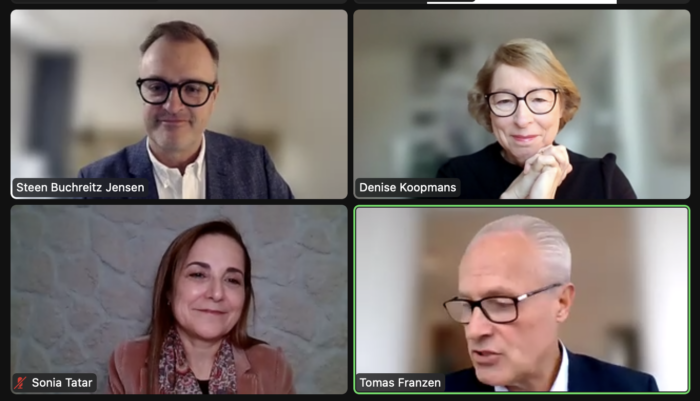 The panelists agreed that there are a lot listed companies can learn from family owned companies such as the longer-term commitment. Company owners and boards that acknowledge the importance of purpose as a driver have clear advantages. You have to have a credible sustainability agenda for your employees as well as for investors and banks. NGOs and customers are important stakeholder groups as well.
Many family businesses have a long-term perspective and the DNA for doing good in society. Institutional ownership may not be that different from family businesses. Nowadays, Investors and bankers expect companies to integrate ESG and Sustainability targets to leaders' incentive systems. The regulations and the activist are also there to force you to take sustainability seriously. In this regard, Boards and remuneration committees play a crucial role by setting KPIs to top leaders, by sparring and supporting CEOs to reach the set targets, financial or non-financial.
In a perfect world we might not need remuneration. But CEOs are focus driven and target oriented people. Rewarding positive actions and outcomes through remuneration works. If you need things to get done on ESG side, start measuring, set KPIs and you will see that things will happen.
Final recommendations:
Tomas: Start somewhere, get going, you don't have to be perfect. You need to measure, make KPIs. Start with initiation, STIs.
Sonia: Communication is important. Report and monitor. Communication generates motivation. Communication also of what did not work. Sustainability is a journey. Choose your sweet spot, work on it.
Denise: ESG is a journey. It is complicated, it is about innovation and it is work in progress. Listen to your stakeholders, but set your own agenda.
About Panelists and Moderator
Denise Koopmans NED & Chair Audit Committee Sanoma, NED & Chair Remco at Royal BAM Group, NED & Chair M&A Committee Swiss Post, NED & Chair Audit Committee at Cicor, Member Strategic Advisory Board at Boards Impact Forum
Tomas Franzen Chair & Chair Remuneration Committee Tietoevry, Chair Bonnier News Group et al, NED at Axel Johnson, Dustin Group, Liljedahl Group, Martin & Servera, Thunderful Group, Hydroscand Group et al, Member Strategic Advisory Board at Boards Impact Forum
Sonia Tatar Sonia Tatar, Executive Director at INSEAD Corporate Governance Center & Wendel International Center for Family Enterprise, Advisory Board Member at NASDAQ Center for Board Excellence, Board Member at Chapter Zero France.
Steen Buchreitz Jensen Member of Supervisory Board and Steering Committee at Boards Impact Forum, and CEO Scandinavian Executive Institute. He has worked as Investor, Chair and NED in various organizations. He works with Executive and Board development through research and programs delivered in partnership with INSEAD.
Learning more and deep dive
The full webinar recording can be found at Boards Impact Forums Youtube Channel
Coming events and join Boards Impact Forum
Board Directors Insights (incl events) for United Nations COP27
Upcoming webinars at Boards Impact Forum Our Events – Boards Impact Forum
Join as a member or to receive the newsletter Join the Forum – Boards Impact Forum