Blog by Justyna Turek, Boards Impact Forum Operations Expert
Webinar on Boards Practices for Sustainable Progress
On the 21st of March, we hosted a webinar and peer exchange on Boards Practices for Sustainable Progress – with Rebecca Oliver – Sustainability Strategist at Purple Ivy, Elaine Weidman Grunewald – NED Azelio, former NED Sweco, European Sustainable Growth Acquisition Corp, former Chief Sustainability Officer Ericsson and Pia Heidenmark Cook, NED at Bupa, Max Hamburger, Origin Materials Inc, Decathlon, Chairwoman at The Do Group, Former Chief Sustainability Officer at IKEA. Liselotte Hägertz Engstam, Chair Boards ImpactForum, Board Member Climate Governance Initiative, NED at TietoEvry, Transtema, Zalaris, Cint, Ografy and BoardClic moderated Webinar.
Members of the Boards Impact Forum attended the session and were successful in knowledge sharing and peer interaction. We kicked off by watching the newest UN IPCC Report. Our Chair Engstam shared the outline of the climate governance principles and related insights.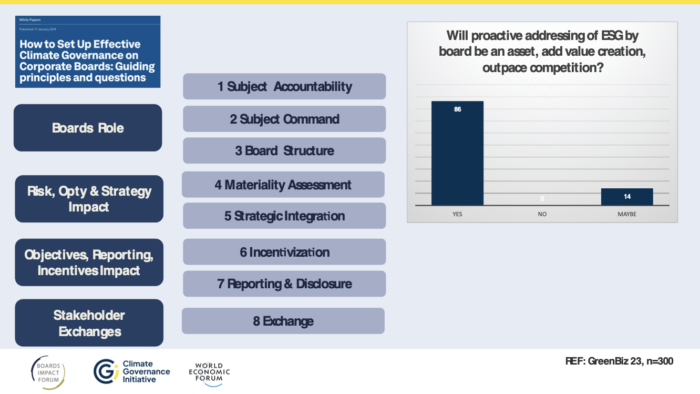 Key Takeaways from the webinar
During the webinar, the guest speakers shared valuable insights and best practices on Sustainable Progress, drawing from their extensive experience in the field. They covered key concepts, case studies, and practical tips, providing our audience with valuable guidance and inspiration. We are sharing some key takeaways from the webinar & peer exchange session.
#1 Rebecca Oliver shared the results and the elements from the STATE OF INTEGRATION survey SOI2022 that aimed to understand how sustainability integration is taking shape within Nordic companies and define what integration means for leaders in sustainability. Four main questions were in the survey's focus: How is sustainability integration taking shape? What is driving deeper integration of sustainability? What are the main barriers/challenges we have identified? What are the best practices we have identified? Some of the takeaways from this survey were "Sustainability reporting is aligning with Finance reporting – with benefits and risks to integration. ESG is shifting to impact metrics" or "Data is a double-edged sword. If strategic and operational insights are not created by new data requirements, regulations will fail in their purpose, and sustainability teams will be diverted from action".
Summarizing her thoughts, Rebecca presented her takeaways, including some of the statements about the role of the Board, like "If the Chair does not prioritise sustainability, it is very difficult to do so", which goes along with demand competence – recruitment of a CEO, and a business-savvy CSO or Audit Committee routines that need to deep dive into sustainability data and interpret it for the rest of the board – so that decisions can be based on a combined financial and sustainability risk and opportunity analysis. In the end, Rebbeca closed by concluding the integration of sustainability into business strategy is a requirement for holistic thinking.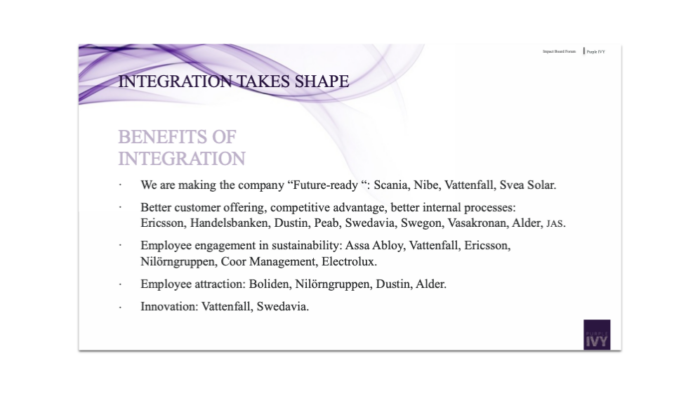 #2 Elaine Weidman Grunewald shared with us the most typical issues that boards currently face, such as how to increase the sustainability ambition, get sustainability into strategy, how the board should work with sustainability, and whether we have the needed competence. What are ESG factors, and how are they linked to the business model?.
Elaine pointed out that many boards suffer from a lack of expertise, based on the Ceres' study 2018 found that of the top 475 fortune 2000 companies – only 17% had sustainability credentials, 13% had oversight of ESG issues, and only 10% regularly reviewed relevant Sustainability issues at board meetings. Nevertheless, as Pia noticed – this is also changing. Six years ago, sustainability only felt like an emergent trend. Today, it's firmly embedded in board and CEO agendas, with more chief sustainability officers (CSOs) appointed in 2021 alone than between 2016 and 2020.1
Summarizing her thoughts, Elaine presented her takeaways for Boards, including some of the statements like being aware of how the business is viewed through a sustainability and ESG lens, both opportunities and risks, ensuring that your board discusses how to engage on sustainability or avoiding only approving a sustainability report – get into the strategy.
Learn more and read – https://www.sustainabilityleadershipbook.com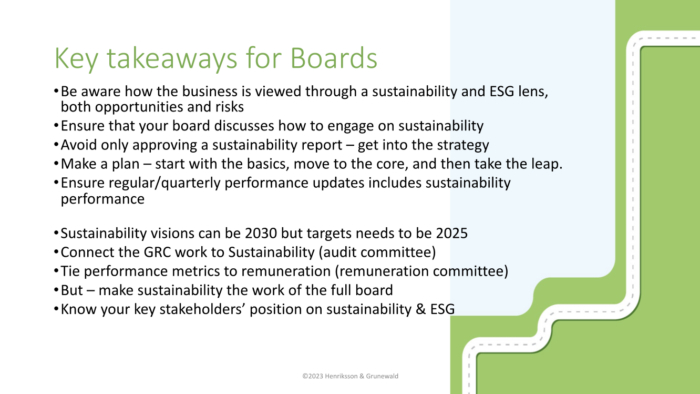 #3 Pia Heidenmark Cook shared three of the most critical points in her understanding. The first one was sustainability – not just a buzzword but a strategic approach requiring innovation. Business models must adapt by understanding and integrating Environmental, Social, and Governance (ESG) considerations to support the transition our society needs. Unfortunately, only a few companies embrace this concept, while others merely succumb to external pressure without genuine commitment. It's crucial to identify your proper stance amidst all of this. The second point was how a company's mindset, vision, and leadership shape how sustainability is addressed. It starts with aligning sustainability with the company's vision, reflecting on the mindset towards the business, and incorporating it into management practices, KPIs, and data-driven decision-making. In today's era of professionalism, sustainability needs to be integrated into risk assessments and business planning to ensure a more sustainable approach to doing business. The third point was that we are currently experiencing a lot of activity in the sustainability space, which is positive as it signifies the field's professionalisation with increased structure and demands. However, it's essential to be patient with the evolving movement, as we may not have all the perfect KPIs yet.
During the webinar, the polls revealed (results):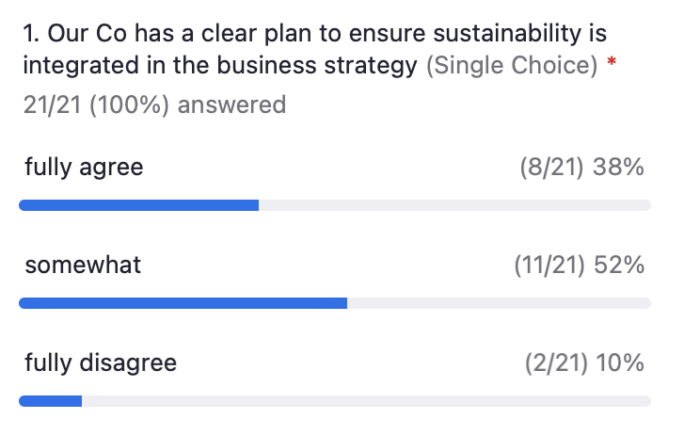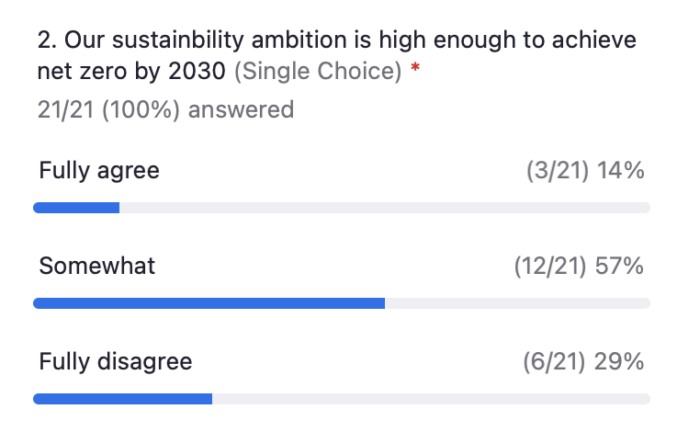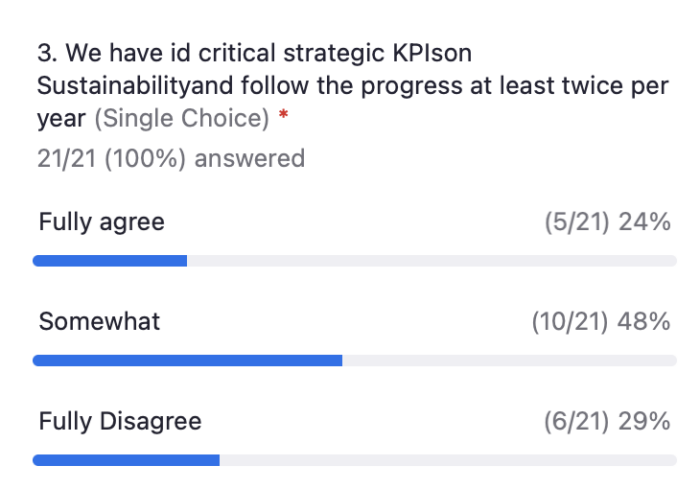 There were lively discussions, thoughtful questions, and collaborative problem-solving, which helped to deepen our understanding of the subject matter. Overall, the webinar and peer exchange was fantastic opportunity for our board members to come together, learn from each other, and enhance our skills and knowledge. We are grateful to the guest speaker for their valuable contributions and to an actively participating audience.
We look forward to organizing more webinars and peer exchanges to continue fostering a culture of learning, collaboration, and innovation.
About Panelists & Moderator
✔ Rebecca Oliver, Sustainability Strategist at Purple Ivy
✔ Pia Hedenmark Cook, NED at Bupa, Max Hamburger, Origin Materials Inc, Decathlon, Chairwoman at The Do Group. Former ChiefSustainability Officer at IKEA
✔ Elaine Weidman Grunewald, NED Azelio, former NED Sweco, European Sustainable GrowthAcquisition Corp, former Chief Sustainability Officer Ericsson
FACILITATED BY: Liselotte Engstam, Chair Boards ImpactForum, Board Member Climate Governance Initiative, NED atTietoEvry, Transtema, Zalaris, Cint, Ografy and BoardClic.

Learning more and deep dive
The presentation can be found HERE.
Recording you can find HERE.
Coming events and join Boards Impact Forum
Board Directors Insights (incl events) for United Nations COP27
Upcoming webinars at Boards Impact Forum Our Events – Boards Impact Forum
Join as a member or to receive the newsletter Join the Forum – Boards Impact Forum