Event 1: March 22 from 17:00 to 18:00 (CET)
Nordic companies and countries are recognized leaders in innovation and sustainability. Nordic boards will continue to build on the unique Nordic corporate governance model to accelerate the strategic climate transition, sustainability and value creation. What can be learnt from Nordic Boards? How will Nordic boards continue to push forward? A topic introduction will be followed by a facilitated discussion with a panel of top-level Nordic Chairs and NEDs.
Focus on Climate Governance Principles 1 & 8. Session held in English.
Speakers

Adele Pran Norman Chair Zalaris, NED Yara, ABG Sundal
Anna Mossberg, NED Schibsted, Swedbank, Orcla, Swisscom
Harri-Pekka Kaukkonen, Chair YIT, Lindstrom, NED TietoEvry
Svante Forsberg, Chair Swe Academy BoD, NED Lannebo Funds
Thomas Thune Andersen, Chair Orsted, Lloyds register, NED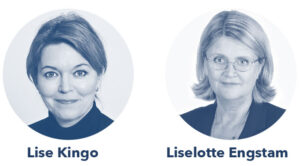 Moderated by Lise Kingo, NED Sanofi, former Exec Director UN Compact
Introduction by Liselotte Engstam, Chair FCG Group, NED TietoeEvry, Zalaris, Transtema, S-Group, IMIT, INSEAD IDN.
Both Lise Kingo and Liselotte Engstam are members of the Board of Boards Impact Forum – the Nordic Climate Governance Chapter